Home Mortgage Loans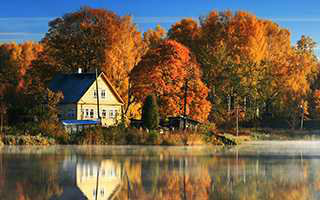 We love Itasca County as much as you do — so you can count on Woodland Bank to help serve your financing needs. We offer a wide range of home financing options, from RD to VA, and we'll customize a mortgage loan that best fits your needs! Our experienced lenders know the local real estate market and will work hard to find the financing that's right for you. We know homeownership is a big deal — look to a bank that is right around the corner to guide you every step of the way!
View our Property for Sale page.
You have questions, we have answers!
Summary
Competitive rates for home purchase, refinance, or construction
Available for primary residence, second homes, vacation homes, or investment properties
A wide range of terms customized to your unique situation
A wide range of financing programs available:

Conventional Fixed Rate Mortgages
Construction Loans
Adjustable Rate Mortgages (ARMs)
VA Loans
FHA Loans
USDA Rural Housing Loans
Free pre-approval for extra confidence when it comes to securing financing

Helpful loan advisors with working knowledge of the local real estate market
Loan advisers registered through NMLS® Woodland Bank NMLS#561743
Local decision-making and processing
Helpful, customized service throughout the entire process
Mortgage Options
Fixed-Rate Mortgage
With a fixed rate mortgage, your monthly principal and interest payments remain the same throughout the life of the loan. The most common mortgage terms are 30 and 15 years. With a 30-year fixed-rate mortgage, your monthly payments are lower than they would be on a 15 year fixed-rate, but the 15 year loan allows you to repay your loan twice as fast and save more than half the total interest costs.
Adjustable Rate Mortgage (ARM)
An adjustable rate mortgage, or "ARM" loan, is a loan type that offers a lower initial interest rate than most fixed rate loans. The trade off is that the interest rate can change periodically, usually in relation to an index, and the monthly payment will go up or down accordingly.
Against the advantage of the lower payment at the beginning of the loan, you should weigh the risk that an increase in interest rates would lead to higher monthly payments in the future. It's a trade-off. You get a lower rate with an ARM in exchange for assuming more risk.
FHA Loans
FHA loans are federally insured, which may require a smaller down payment and may offer a lower interest rate than a comparable conventional loan. The loan must meet the established guidelines of FHA in order to qualify for the insurance.
VA Loans
If you have been a member of the U.S. Military, you may qualify for a VA loan to help you purchase a primary residence. The loan is guaranteed by the Department of Veterans Affairs (VA) and requires low or no down payment.
USDA Loans
A USDA loan (also called a Rural Development Loan) is a government insured home loan that allows you to purchase a home if it is located in a designated rural area with no money down. USDA offers 100% financing at some of the lowest rates of any loan, and you will always have a fixed interest rate.
Residential Construction Loans
If you are planning to build or remodel a home, we can help finance it through a residential construction loan. During the term of the loan, the lender makes payments to the builder as the work progresses and the borrower makes interest payments on only the funds that have been disbursed to the builder. Typically, the construction loan is refinanced into a permanent loan after the home is completed.

What our Customers Say